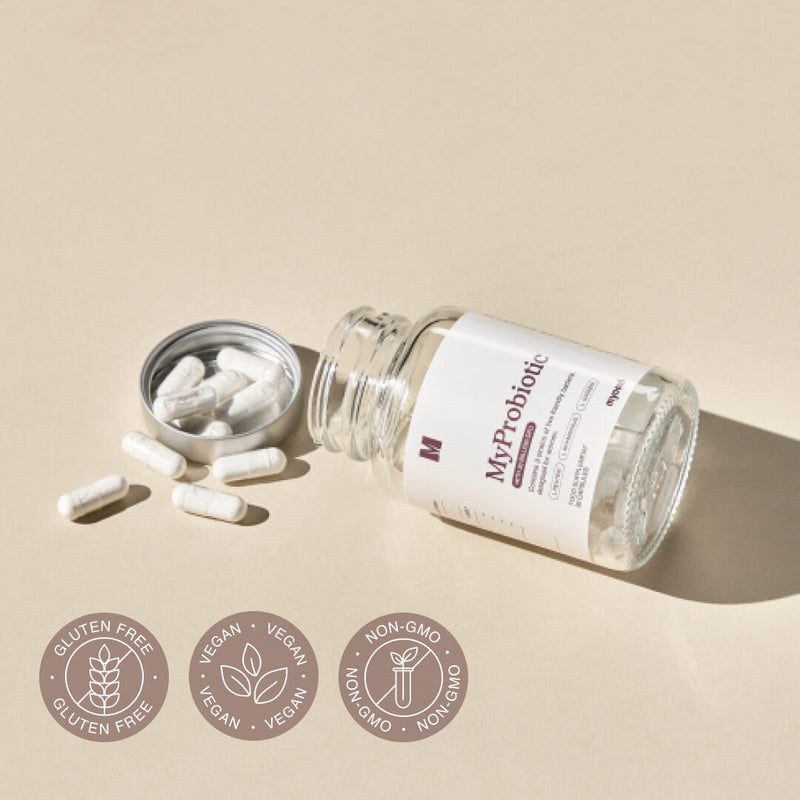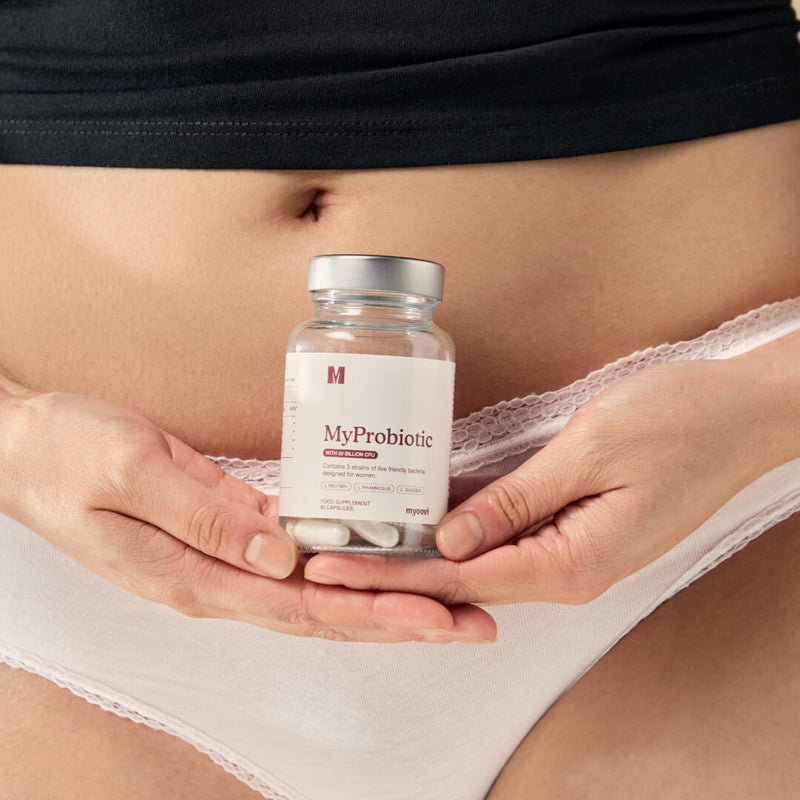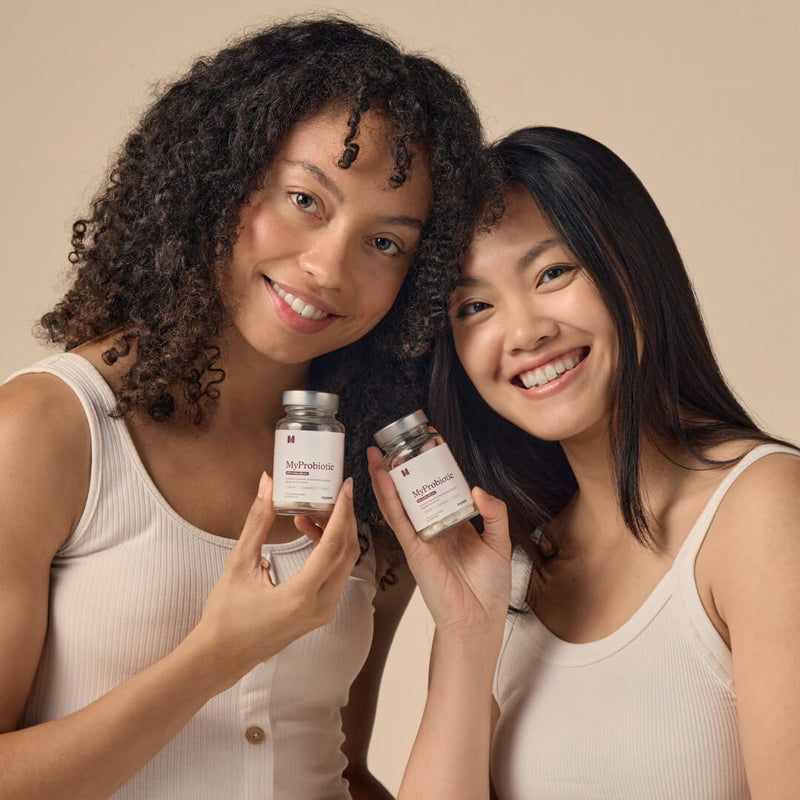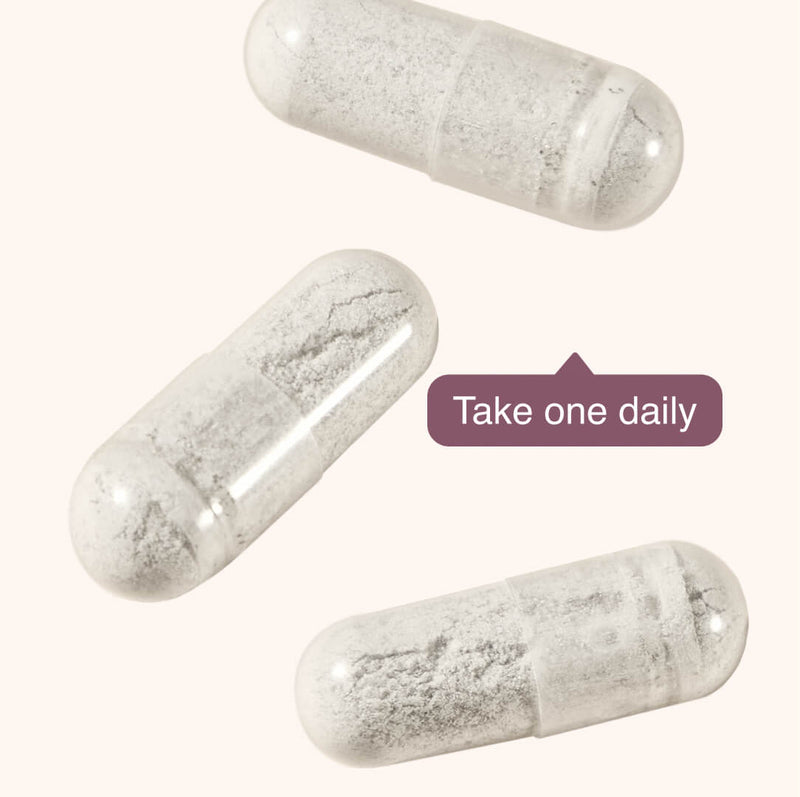 MyProbiotic
Supplements with 20 billion live bacteria
Probiotics created with both your gut and vaginal health in mind
Improve your digestion and overall gut health
Reduce the risk of thrush, bacterial vaginosis and STIs
Founded & formulated by UK doctors
Probiotics created with both your gut and vaginal health in mind
Improve your digestion and overall gut health
Reduce the risk of thrush, bacterial vaginosis and STIs
Founded & formulated by UK doctors
Product Description

Most probiotics are created to support the gut microbiome, but MyProbiotic contains 20 billion live good bacteria that both your gut and vagina will love, including L.Reuteri, L.Rhamnosus and L. Gasseri.

Created by UK doctors with your body and hormones in mind, MyProbiotic is the perfect addition to your holistic menstrual health toolkit
Benefits

Your gut is the powerhouse of your entire body. When your gut health is off it can impact everything from your digestive system and mental health to immunity and your hormones - and even the health of your vagina.

Gut health issues can lead to an imbalance of good and bacteria in the vagina - this is known as vaginal dysbiosis. MyProbiotic helps to give the good bacteria in both your gut and vagina a boost, reducing the risk of bacterial vaginosis, thrush, urinary tract infections, STIs and even fertility issues.
Shipping & Returns

Shipping is free for all orders that are on subscription or on orders over £35.

Orders are delivered using Royal Mail Tracked Service.

We have a 60 day return policy starting from when you recieve your items. To be eligible for a return, your item must be in the same condition that you received it, unopened, unused and in its original packaging. You'll also need the receipt or proof of purchase.
Directions for use

Take 1 capsule once a day.

It can take 2 to 3 cycles to see optimal results.
Gut Health Glow-Up
More diversity in gut microbiome
Happy, Healthy Vagina
Reduce the risk of thrush, BV and STIs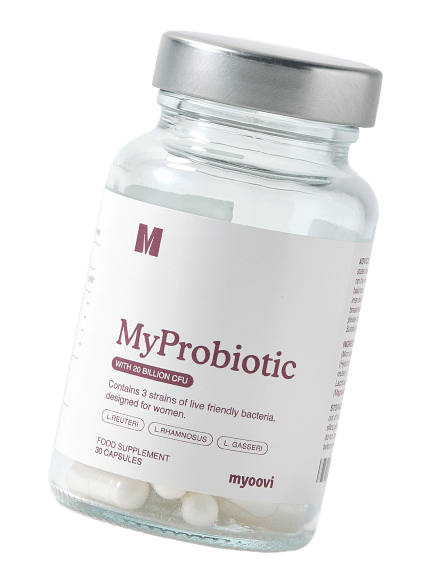 Bacterial Balance
More good bacteria in your vagina
Menstrual Health Harmony
Created with your body and hormones in mind.
Give Your Gut A Glow Up
And your vaginal health a makeover
Your gut and your vagina are more connected than you realise. When your bacterial balance is off in one it can impact the other - and vice versa.

MyProbiotic's unique formula contains 20 billion live bacteria of specific strains that are known to support both your gut and vaginal health, reducing the risk of bacterial vaginosis, STIs and thrush as well as supporting your overall menstrual well-being.
Backed by science, grounded in nature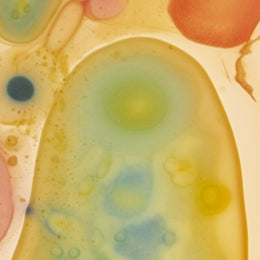 L.Reuteri:
Lactobacillus reuteri RC-14 supports the health of cells in our bladder, vagina and intestine.

This not only reduces the risk of gut health issues like constipation and acid reflux but also the intestinal inhibits the growth of harmful organisms and kills viruses in the vagina.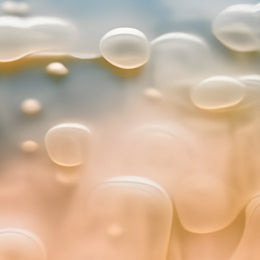 L.Rhamnosus
Lactobacillus rhamnosus, the most researched probiotic, has been found to prevent yeast infections - like thrush - by killing bacteria and yeast in the vagina.

It's also known to improve digestive health, treat diarrhoea, relieve IBS symptoms, and strengthen your gut.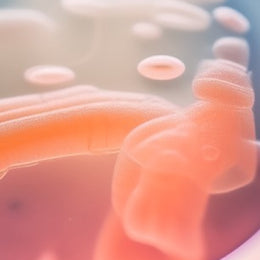 L. Gasseri:
L. gasseri helps to prevent the pathogens like Candida albicans (the primary culprit in yeast infections) and Escherichia coli (associated with urinary tract infections) from building biofilms inside the vagina

The Power of MyProbiotic
We don't often give our gut health (or vaginas) the attention they deserve, but supporting your microbiome can have far-reaching benefits for your health and menstrual well-being.
 
MyProbiotic will help you regain some balance below the belt, improving your digestion and making your vagina happier and healthier than ever before. 
Explore our frequently asked questions.
If you're looking to regain some balance below the belt, improve your digestion and make your vagina happier and healthier than ever before - then MyProbiotic is for you.
Rome wasn't built in a day, and your vagina needs more care than the Vatican. It can take 2-3 weeks for the probiotic to repopulate your microbiome, so for optimal results, we recommend using MyProbiotic for at least 2 cycles.
MyProbiotic can fit easily into your daily routine. Take 1 capsule a day, in the morning or evening, with or without food - whatever works for you
If you like your period healthcare plan-based - no worries. MyProbiotic is suitable for vegans and vegetarians.
We know that for some people food intolerances can impact their menstrual health, which is why our entire supplement range is gluten-free.
We know that for some people food intolerances can impact their menstrual health, which is why our entire supplement range is free from dairy and lactose.
Supplements aren't like succulents - they can't survive in tough conditions. We recommend storing your MyEndo supplements in a cool, dry place, away from direct sunlight.
We love to help mums and mums-to-be support their menstrual health! However, we would always recommend consulting with your physician before starting any supplements if you are pregnant or breastfeeding.
Read what real women are saying...
Best investment
This is the best product i have ever bought. At first i was sceptical But it actually works even with the most terrible of pains.
As an Endo Warrior
I suffer with Endometriosis, Adenomyosis, IBS and chronic pain. This little gem was bought on a 3am pain induced state and I'm so glad I did.
A Life changer!
An absolutely incredible device and the best customer service I have ever experienced with an online order
It really works!
Let me tell you, Oovi is not a let down. I used this for the first time yesterday and after 20 minutes, the pain went away. It just...went away.
Effective product
Got this for my daughter who has had PCOS pains for over a year. This has helped her a lot as it is very effective and gives quick pain relief.
Well worth the investment
This product is well worth the investment! This actually works so well, no more painkillers or hot water bottles - yayyyy!
MyProbiotic
Liquid error (snippets/price line 82): Computation results in '-Infinity'% OFF
Regular price
Sale price
$36.00
Unit price
per
Sale
Sold out