92%
92% of all customers experienced significant pain relief using Myoovi.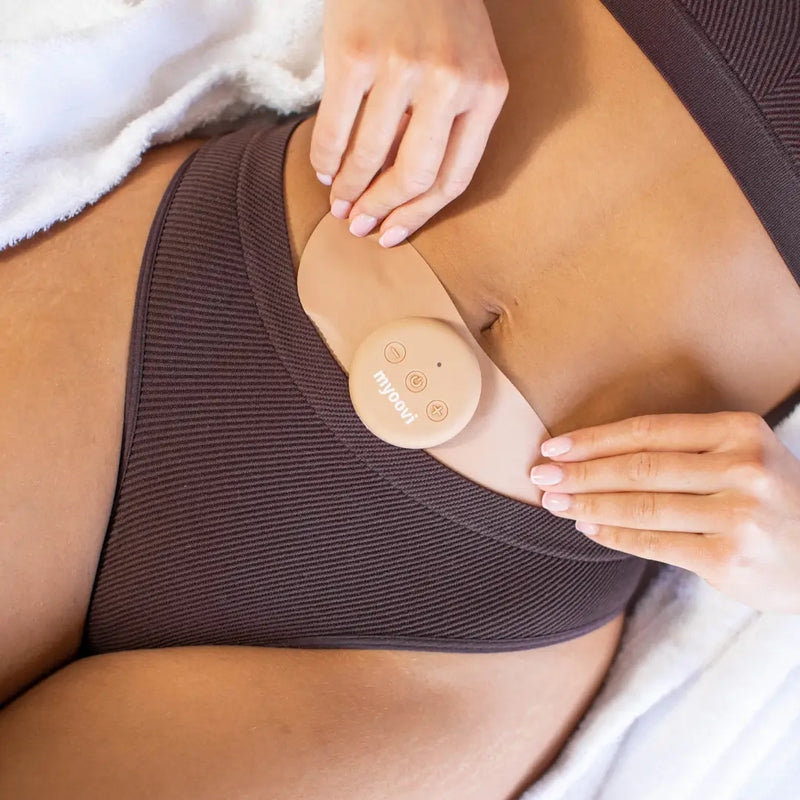 Myoovi Period Pain Relief Device
BEST FOR: ENDO & PERIOD PAIN RELIEF
Endo & period pain relief - works for severe pain
100% Drug free - Relief without the side effects
Use on the go - no more cancelled plans
Pain relief in as little as 5 minutes
Endo & period pain relief - works for severe pain
100% Drug free - Relief without the side effects
Use on the go - no more cancelled plans
Pain relief in as little as 5 minutes
How Myoovi Works

Founded by UK doctors, Myoovi is designed to stop your period cramps instantly. Myoovi uses TENS technology to interrupt the pain signals that go to your brain.


Think of your nerves as a gate for pain. Myoovi sends tiny impulses which close these gates, reducing the pain signals going to your brain.


The result is instant relief!
Features & Benefits

• Instant pain relief, works in seconds

• 100% natural - no drugs, no chemicals, no side effects

• Wireless, discreet and portable

• Long lasting battery - upto 10 hours

• Founded by UK doctors, built on scientific research
Returns

You have a full 60 DAYS to try Myoovi and fall in love with instant pain relief.


We understand that everyone's body is different and what relieves pain for one person may not necessarily work for you. That's why if you change your mind, you have 60 days to return your Myoovi and get your money back. No questions asked!

We'll even cover the shipping for you.
Whats in the box?

• Myoovi device

• 2x Butterfly pads

• USB Charging cable

• Storage Pouch

• Manual
For women who need instant pain relief.
Goodbye painkillers, agonising cramps and cancelling social plans…
Welcome to 100% drug-free, immediate period pain relief from Myoovi. 
This discreet, clinically-proven 'TENS' device relieves period pain & endometriosis by stimulating nerves that block pain signals.
Leaving you feeling…relaxed.
Real women, sensational results...
Grace Crompton
Previously I'd been looking for anything to ease my period pain such as hot water bottles and painkillers but nothing has helped. Myoovi has been the solution to everything!
Aylana
Absolutely in love with myoovi. So discreet and yet so powerful! Making my time of the month much more manageable. Thank you!
Kelly
I get horrific ovulation and back pain and I've been using Myoovi to help relieve that! It's discreet, compact and portable so you can take some pain relief on the go
Cara
If you can afford it- definitely buy it! I've been using it pretty much non stop, and it's just amazing! You can wear it all day long without anyone knowing it's even there
Zahra
I have trialed myoovi for 2 months and I can honestly recommend. Its been a long long time since I haven't consumed countless painkillers!
Natalie
I've had a fab experience with this company! Customer service is great, shipping was fast and for the first time in years I've been able to go out on the first 2 days of my cycle
Rae
I put it on my stomach and immediately the pain started to calm down.. It took my attention off the pain and within 15mins the pain disappeared completely.
Lucy
Amazing! I had seen Myoovi ads and had wanted to try for a while, I'm so glad I finally did. It is amazing, I suffer with horrendous pains daily. With Myoovi I can relax!
Pain free
Drug free
Wire free
period relief.
Myoovi relieves period cramps, giving you instant relief so that you can get on with your life!



100% Drug Free
No painkillers, no side-effects... Just natural, immediate pain relief.
All Day Use
Get up to 10hrs of relief on a single charge, plus it's completely silent.
Instant Pain Relief
Myoovi uses 'TENS' technology for instant pain relief.
Discreet & Portable
Forget the faff of wires. Myoovi's wire-free design allows you to move freely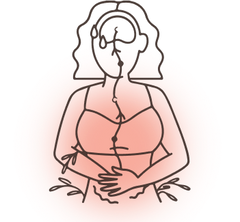 1. Pain Signals.
Your brain receives signals from the uterus, indicating terrible pain.
2. Attach Device.
Attach Myoovi to your stomach (or area of pain), sending small pulses through the pad.
3. Block Signals.
Myoovi's tiny pulses work fast & block the pain signals from reaching your brain.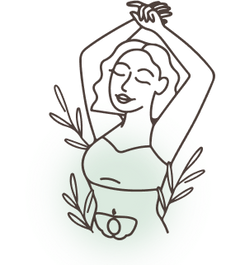 4. Pain Relief.
Now you're free of period-related pain, living your best life!
How will Myoovi feel?
Myoovi uses gentle vibrations that feel like a pulsing massage under your clothes.
With your period pain gone, you can get on with your day, meet up with friends, go to work and do the things you love most.
Its wireless, discreet design means no wire tangling, so no fuss - wear your Myoovi anywhere, you won't even notice it's there.
Customer Reviews
Alice H.

Verified Buyer

Wellness concern

Period Pain

Myoovi has genuinely changed my quality…

Myoovi has genuinely changed my quality of life. I reach for it whenever I can feel cramps coming now and wear it all day during my period or PMS and turn it on when I need it. It's not a miracle but it's pretty close. I use it with painkillers when pain is at its worse and I feel able to do things. It's so subtle as well no one at work will notice the device

Pain Relief

Rated 5.0 on a scale of 1 to 5

Maryam

Verified Buyer

Wellness concern

Endometriosis

The only device that saved from…

The only device that saved from immensive pain. I tried dietary change, a ton of medicines and specific exercises and Yoga. Nothing helped. I gained a lot of self-assurance with myoovi, cause I'm not suffering anymore from Endometrioses and menstrual cramps.

Pain Relief

Rated 5.0 on a scale of 1 to 5

Amina

Verified Buyer

Wellness concern

Period Pain

It worked, felt like EMS

It felt like EMS, maybe it was not, but felt this way. Definitely will continue using it. I still had vomiting and almost fainting feelings and wouldn't say that I felt amazing and instead of dying I was ready to run, no, I still felt that inside something hurts, and hurts badly. But Myoovi was distracting me from pain and it seems that with it I was falling asleep from time to time, which helped to shorten my struggles.

Pain Relief

Rated 5.0 on a scale of 1 to 5

Rebecca B.

Verified Buyer

Wellness concern

Period Pain

Well worth the money, I got my life back!

I've suffered with debilitating periods for 10+ years now. Typically I'd have to max out on both ibuprofen and paracetamol, staggering them to try to reduce the pain, use a hot water bottle, and stay in bed. I've consistently had to cancel plans, call in sick at work, and generally feel hopeless. Given how much I've struggled with my periods I was dubious Myoovi would work, but I'm so glad it does! I've since been able to keep plans, spending all day out and about, and even briefly forget I'm on my period. I wish I had taken the plunge sooner, as they had been on my radar for a while now, but I'm glad I finally did.

Pain Relief

Rated 5.0 on a scale of 1 to 5

Filippos M.

Verified Buyer

Wellness concern

Period Pain

My gf was very happy with your devise

My gf was very happy with your devise! My experience buying and recieving it was pretty good

Pain Relief

Rated 5.0 on a scale of 1 to 5
Reviews Loaded
Reviews Added
Explore our frequently asked questions.
Myoovi uses medically proven TENS technology short for transcutaneous electrical nerve stimulation. Small pulses travel through the gel pad placed on the abdomen or lower back preventing the pain signals from travelling to the brain. The result? Instant pain relief.
As much as you'd like. Our bodies are all different so some of us may need to use it for longer periods of time and that is completely fine. If you do feel any discomfort then maybe take a little break or move your Myoovi to a different spot.
The short answer is: YES of course! TENS technology has been tested, tried and used to treat people in the medial field for many years. It is FDA approved and CE marked. So, you can use it with peace of mind.
For sure. Myoovi is made for relief of primary menstrual pain (dysmenorrhoea). But it may also help to relieve the pain of secondary menstrual pain due to conditions such as endometriosis, fibroids, PCOS, adenomyosis or peliv inflammatory disease.
Although TENS technology is used for labour pains, we don't recommend Myoovi until you have discussed this with your doctor.
Our gel pads usually last anywhere between 20-30 uses. We do recommend they are changed when they are no longer sticky (usually after 2 months).
Our butterfly design is made to cover a large area. This is usually on the lower or upper abdomen or lower back depending on where the pain is.
The battery life should be anywhere between 5-10 hours depending on the level of intensity being used.
We understand our bodies work differently so it may not work for all. However, that is nothing to worry about as we have a 60-day hassle-free returns policy. You have 60 days to try it out as much as you like. If it doesn't help ease your pain, we will give you a full refund.
Yes it is completely latex free. The pads are made from Fabric, Conductive plastic film & Biocompatible self-adhesive conductive hydro gel
Myoovi Period Pain Relief Device
42% OFF
Regular price
$155.00
Sale price
$90.00
Unit price
per
Sale
Sold out