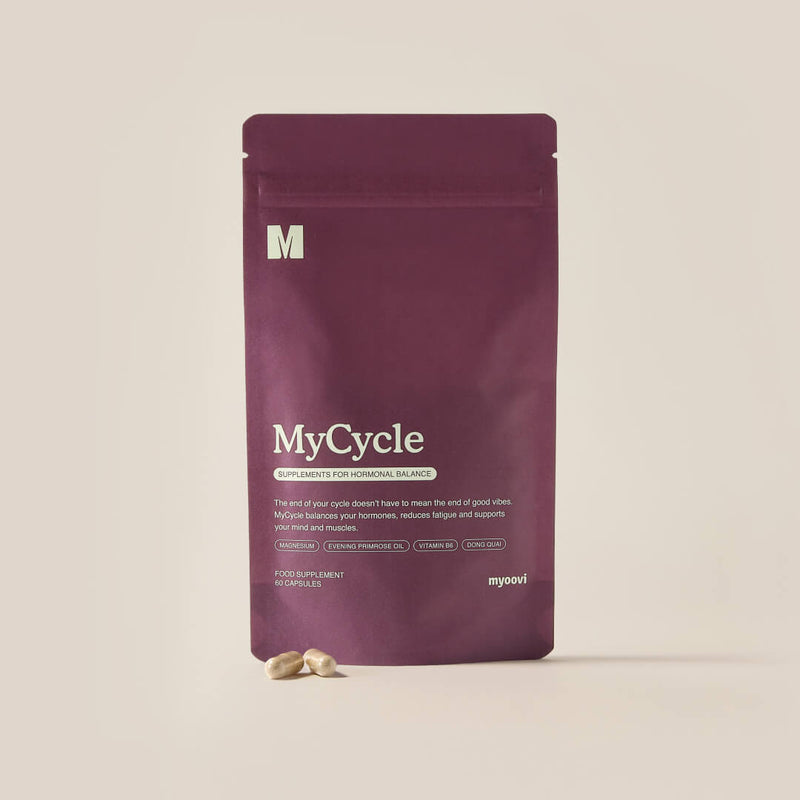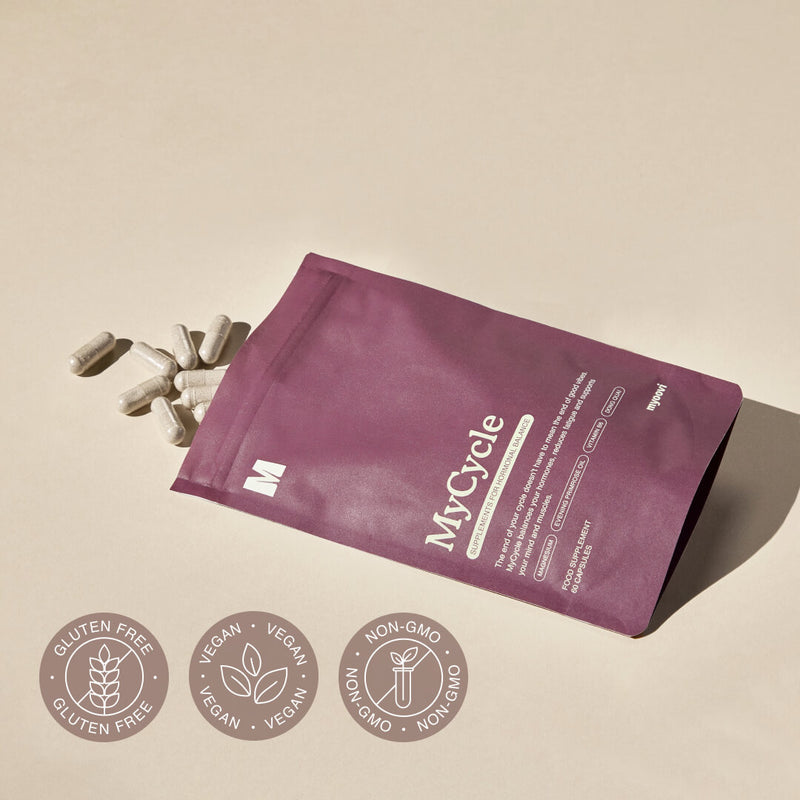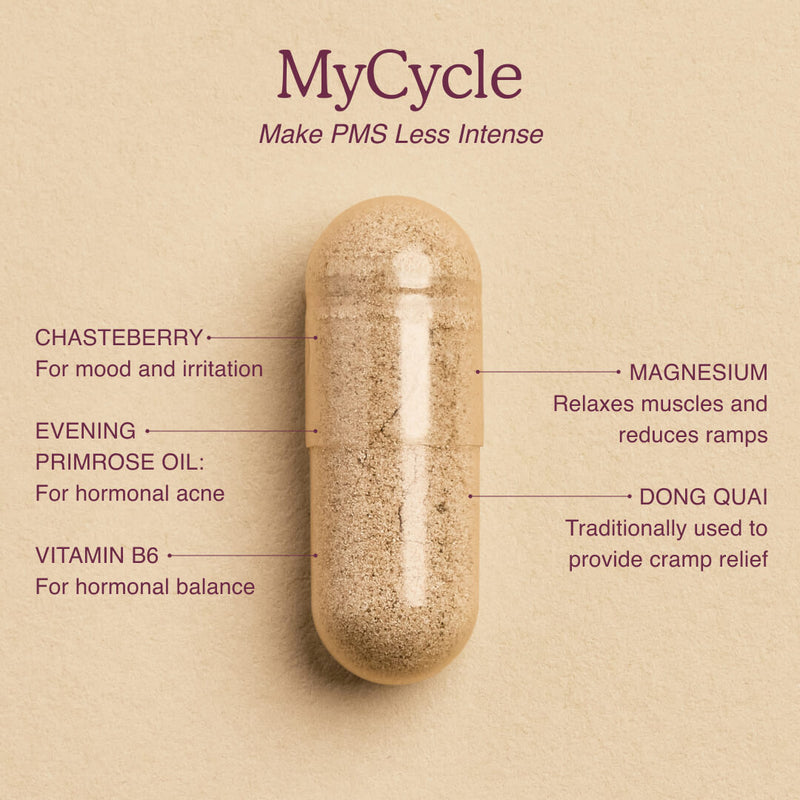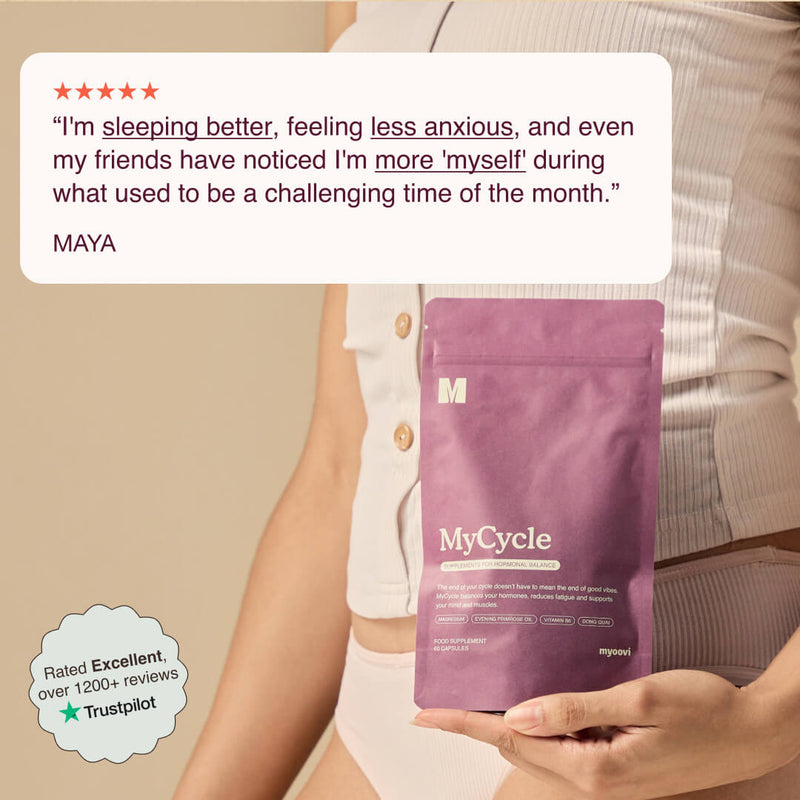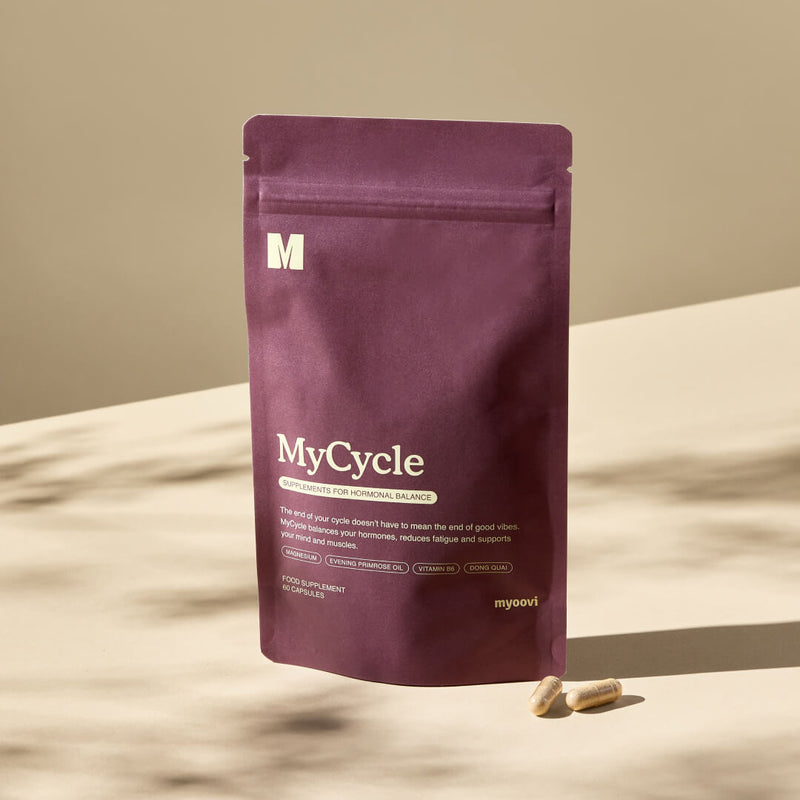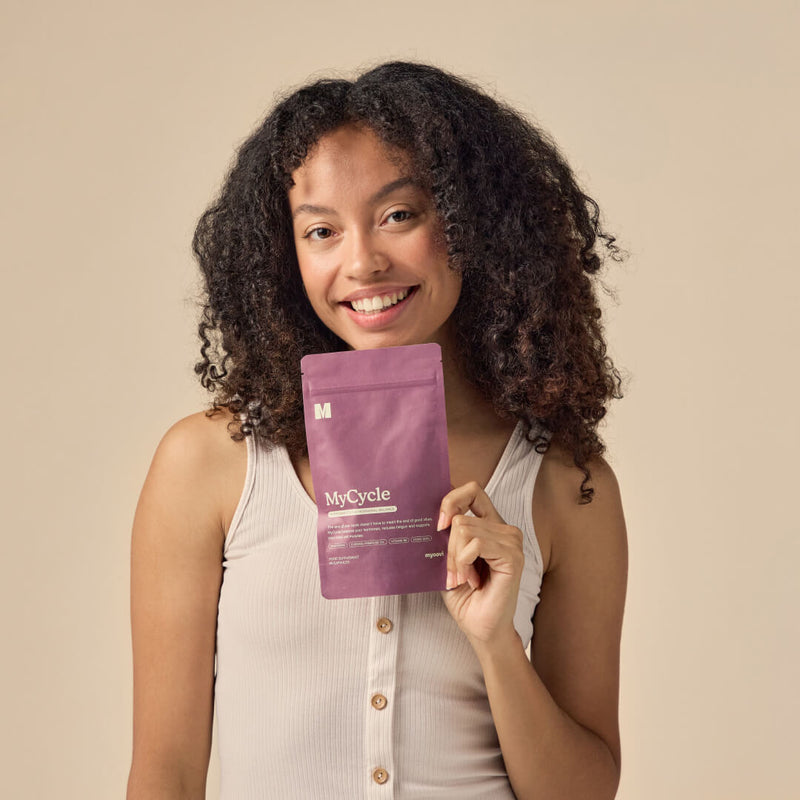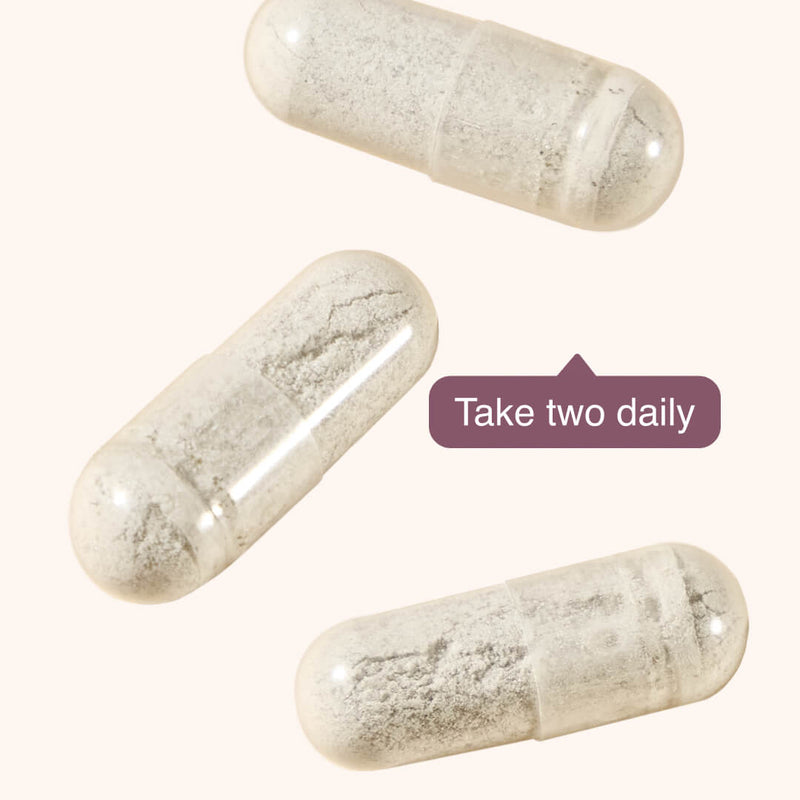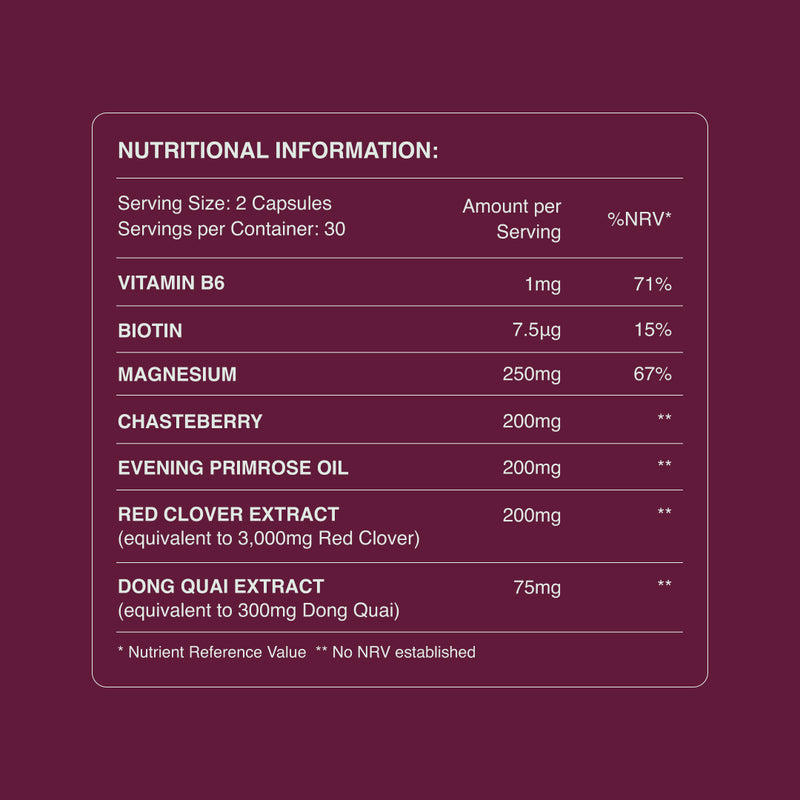 MyCycle
Tackle Acne, Ease Cramps, Balance Moods: Your PMS Game-Changer
Reduces mood swings and irritability
Tackles period pain & cramps
Helps relieve hormonal acne and skin breakouts
Boost your energy and end fatigue
Founded & formulated by UK doctors
Reduces mood swings and irritability
Tackles period pain & cramps
Helps relieve hormonal acne and skin breakouts
Boost your energy and end fatigue
Founded & formulated by UK doctors
Product Description

MyCycle combines hormone-friendly ingredients of Chasteberry, Vitamin B6, Magnesium, Evening Primrose Oil and Dong Quai to tackle some of the most common PMS Symptoms. The result? A smoother end to your cycle and less stressful start to your period.

Created by UK doctors with your body and hormones in mind, MyCycle is the perfect addition to your holistic menstrual health toolkit.
Benefits

Our premenstrual time gets some bad press. Many of us associate it with bad moods, bad skin and generally bad vibes. And that's before we even talk about the cramping, sore boobs or fatigue.

The fact is that if we support our hormonal health throughout our cycle, the time leading up to our period shouldn't be like this. MyCycle helps to nurture your hormonal balance, tackle both physical and emotional PMS symptoms and set you up for a happier, healthier period.
Shipping & Returns

Shipping is free for all orders that are on subscription or on orders over £35.

Orders are delivered using Royal Mail Tracked Service.

We have a 60 day return policy starting from when you recieve your items. To be eligible for a return, your item must be in the same condition that you received it, unopened, unused and in its original packaging. You'll also need the receipt or proof of purchase.
Directions for use

Take 2 capsules daily.

It can take 2-3 cycles to regulate our hormones and for the ingredients to sync with our system. For some it can be sooner.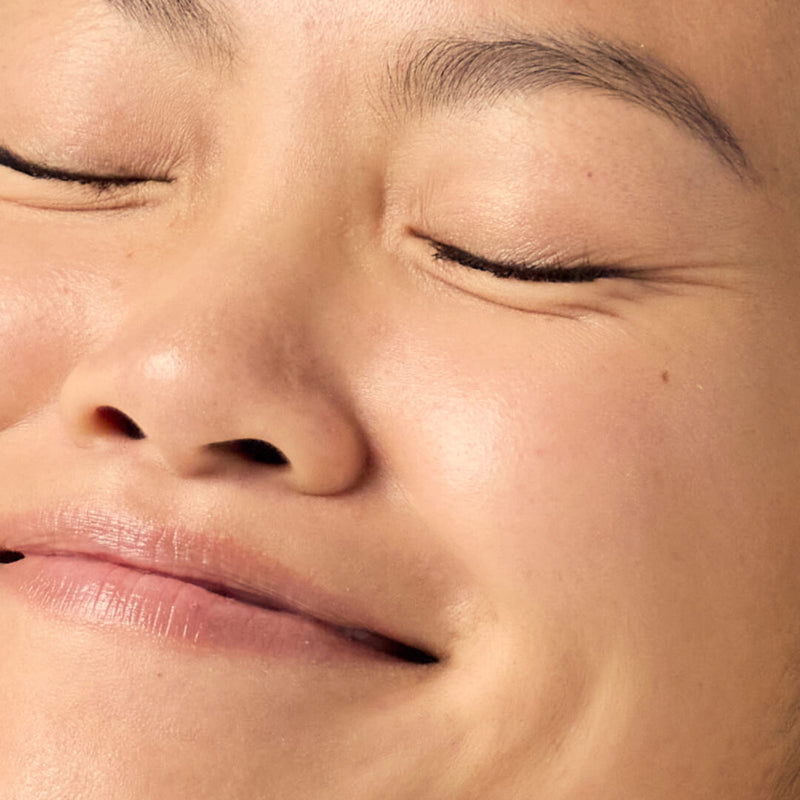 Get Some PMS Peace
The end of your cycle doesn't have to mean the end of good vibes
From low mood and sore boobs to migraines and painful cramps, the pre-period launch party is one we'd happily skip. But it doesn't have to be this way.

MyCycle's unique formula tackles some of the most common symptoms of PMS with natural ingredients that work with your hormonal health.

Give your mood a boost, your skin a glow up and your energy levels some elevation. Oh, and your cramps? They're cancelled.
Clearer Skin
Natural ingredients to reduce hormonal acne
Reduced Cramps
Relax those menstrual health muscles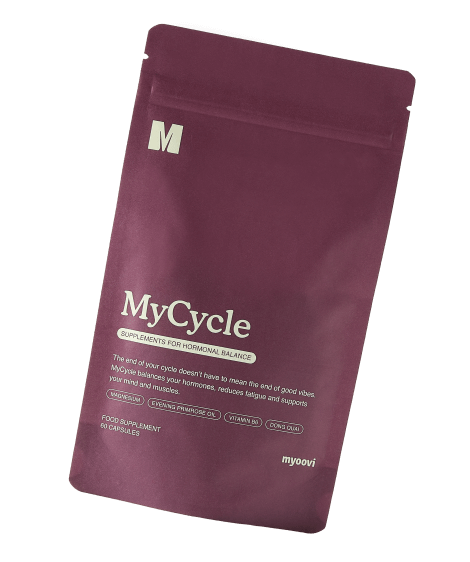 Less Irritability
Smooth out those mood swings
Menstrual Health Harmony
Created with your cycle and hormones in mind.
Backed by Science, Grounded in Nature
Chasteberry (Agnus castus):
Chasteberry is one of the most commonly used supplements for menstrual health.

A 2013 review of its benefits for the female reproductive system suggests it provides many benefits for people with PMS.

It was shown to be particularly helpful for physical symptoms, including bloating, breast pain, and headaches.

It's also been shown to help with mood swings and irritability.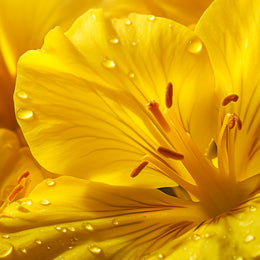 Evening primrose oil:
Evening Primrose Oil contains 2 types of omega 6 as well as GLA acids - all of which have powerful anti-inflammatory properties.

By reducing inflammation, EPO can naturally help to reduce skin breakouts and soothe hormonal acne.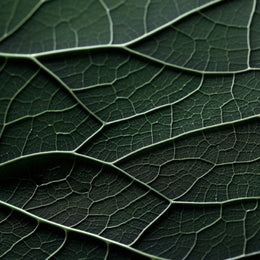 Vitamin B6:
Vitamin B6 has often been used to treat emotional health issues including anxiety, depression and even extreme PMS.

Researchers suspect that B6 helps with emotional symptoms related to hormone health due to its role in creating neurotransmitters that regulate mood! It's also great at balancing out our hormones.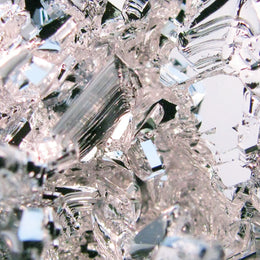 Magnesium
Magnesium is a menstrual health multi-tasker! Research not only suggests that the mineral is a natural treatment for reducing PMS stress, but it can also help painful cramps and reduce muscle tension.

Studies have even shown that taking magnesium daily also reduces other PMS symptoms including breast pain, sugar cravings, dizziness and headaches.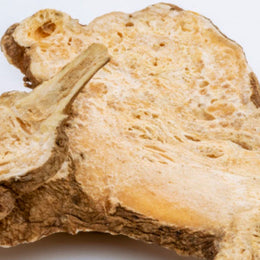 Dong quai:
Known as the 'female ginseng', Dong quai is known for supporting menstrual health, especially for abdominal cramps!

A 2004 study showed that the vast majority of people who took dong quai regularly saw some improvement in their period and premenstrual pain.
The MyCycle Impact
Less PMS, More PMYes
You shouldn't spend the days leading up to your period dreading your bleed, cancelling plans or feeling overwhelmed.

MyCycle will empower you to live your best life in your luteal phase - with less pain, clearer skin and boosted mood and energy levels.
Customer Reviews
Jessica G.

Verified Buyer

Wellness Concern

PMS,

Period Pain

Surprisingly Effective

I started MyCycle without expecting any miracles, but I've been pleasantly surprised. Not only has it eased my cramps, but it's also significantly reduced my irritability around that time of the month.

Results

Rated 5.0 on a scale of 1 to 5

Olivia

Verified Buyer

Wellness Concern

PMS,

Mood

Smooth Transition Off the Pill

After deciding to come off birth control pills, I was really worried about the return of my intense PMS symptoms, especially the cramps and mood swings. MyCycle has been a lifesaver during this transition. Not only have my symptoms been much more manageable than I feared, but I also feel more in tune with my body's natural rhythm. It's comforting to support my health with something more natural and holistic

Results

Rated 5.0 on a scale of 1 to 5

Lauren C.

Verified Buyer

Finally Feeling Balanced and Happy

his supplement has helped me feel more like myself, making my premenstrual phase much less daunting and more manageable

Results

Rated 5.0 on a scale of 1 to 5

Sarah K.

Verified Buyer

My New Go-To

I've experimented with various supplements for menstrual health over the years, but MyCycle truly stands out. After few weeks of use, I've observed a noticeable improvement in my overall hormonal balance. I feel more energized and less overwhelmed by PMS symptoms

Results

Rated 5.0 on a scale of 1 to 5

Grace

Verified Buyer

Wellness Concern

PMS,

Hormonal Acne

Helped with my moods and acne

Finding a balance for my hormonal health seemed impossible, especially with the acne and emotional roller coasters each month. MyCycle has brought that much-needed harmony. My skin is clearer, and my emotional wellbeing during my menstrual cycle has improved dramatically. It feels like I've hit the reset button on my hormonal health

Results

Rated 5.0 on a scale of 1 to 5
Reviews Loaded
Reviews Added
Explore our frequently asked questions.
MyCycle is for anyone who wants to make their PMS less intense. Whether you're looking for fewer mood swings, healthier skin or a reduction in sore boobs and pre-period cramping, MyCycle has got you covered.
Some people may notice relief from certain symptoms very quickly! But it can take around 2-3 months for ingredients to get into their flow and start harmonising with your hormones, so it could be a couple of cycles before you notice the MyCyle impact.
MyCycle can fit easily into your daily routine. Take 2 capsules a day, in the morning or evening, with or without food - whatever works for you!
If you like your period healthcare plan-based - no worries. MyCycle is suitable for vegans and vegetarians.
We know that for some people food intolerances can impact their menstrual health, which is why our entire supplement range is gluten-free.
We know that for some people food intolerances can impact their menstrual health, which is why our entire supplement range is free from dairy and lactose.
Supplements aren't like succulents - they can't survive in tough conditions. We recommend storing your MyCycle supplements in a cool, dry place, away from direct sunlight.
We love to help mums and mums-to-be support their menstrual health! However, we would always recommend consulting with your physician before starting any supplements if you are pregnant or breastfeeding.
MyCycle
Liquid error (snippets/price line 82): Computation results in '-Infinity'% OFF
Regular price
Sale price
$36.00
Unit price
per
Sale
Sold out