92%
92% of all customers experienced significant pain relief using Myoovi.
Period & Bloat Relief Bundle
1x Myoovi device + 1x MyDebloat
Endo & period pain relief - works for severe pain
100% Drug free - Relief without the side effects
Reduce inflammation & increase energy with MyEndo
Say "bye" to swollen bellies & experience bloat relief with MyDebloat
Endo & period pain relief - works for severe pain
100% Drug free - Relief without the side effects
Reduce inflammation & increase energy with MyEndo
Say "bye" to swollen bellies & experience bloat relief with MyDebloat
Product Description

Founded by UK doctors, Myoovi device is designed to stop your period cramps instantly. Myoovi uses TENS technology to interrupt the pain signals that go to your brain.


Think of your nerves as a gate for pain. Myoovi sends tiny impulses which close these gates, reducing the pain signals going to your brain.


The result is instant relief!


MyDebloat combines soothing ingredients of ginger, magnesium and peppermint oil with probiotics and digestive enzymes for improved gut health.
Features & Benefits

• Instant pain relief, works in seconds

• 100% natural - no drugs, no chemicals, no side effects

• Wireless, discreet and portable

• Long lasting battery - upto 10 hours

• Founded by UK doctors, built on scientific research
Shipping & Returns

Shipping is free for all orders that are on subscription or on orders over £35.

Orders are delivered using Royal Mail Tracked Service.

We have a 60 day return policy starting from when you recieve your items. To be eligible for a return, your item must be in the same condition that you received it, unopened, unused and in its original packaging. You'll also need the receipt or proof of purchase.
Directions for use

For MyDebloat: Take 1 capsule a day, preferably after your main meal of the day


For Myoovi device: Please refer to the manual inlcuded
For Endo warriors who need instant pain relief.
Goodbye painkillers, agonising cramps and cancelling social plans…
Welcome to 100% drug-free, immediate period pain relief from Myoovi. 
This discreet, clinically-proven 'TENS' device relieves period pain & endometriosis by stimulating nerves that block pain signals.
Leaving you feeling…relaxed.
Real women, sensational results...
Rae
I put it on my stomach and immediately the pain started to calm down.. It took my attention off the pain and within 15mins the pain disappeared completely.
Natalie
I've had a fab experience with this company! Customer service is great, shipping was fast and for the first time in years I've been able to go out on the first 2 days of my cycle
Kelly
I get horrific ovulation and back pain and I've been using Myoovi to help relieve that! It's discreet, compact and portable so you can take some pain relief on the go
Aylana
Absolutely in love with myoovi. So discreet and yet so powerful! Making my time of the month much more manageable. Thank you!
Pain free
Drug free
Wire free
period relief.
Myoovi relieves period cramps, giving you instant relief so that you can get on with your life!



100% Drug Free
No painkillers, no side-effects... Just natural, immediate pain relief.
All Day Use
Get up to 10hrs of relief on a single charge, plus it's completely silent.
Instant Pain Relief
Myoovi uses 'TENS' technology for instant pain relief.
Discreet & Portable
Forget the faff of wires. Myoovi's wire-free design allows you to move freely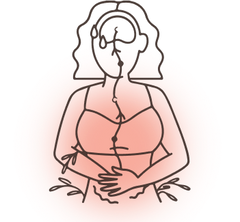 1. Pain Signals.
Your brain receives signals from the uterus, indicating terrible pain.
2. Attach Device.
Attach Myoovi to your stomach (or area of pain), sending small pulses through the pad.
3. Block Signals.
Myoovi's tiny pulses work fast & block the pain signals from reaching your brain.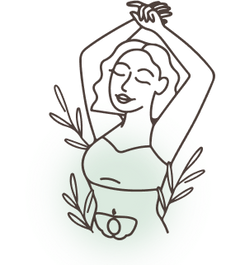 4. Pain Relief.
Now you're free of period-related pain, living your best life!
How will Myoovi feel?
Myoovi uses gentle vibrations that feel like a pulsing massage under your clothes.
With your period pain gone, you can get on with your day, meet up with friends, go to work and do the things you love most.
Its wireless, discreet design means no wire tangling, so no fuss - wear your Myoovi anywhere, you won't even notice it's there.
Explore our frequently asked questions.
Myoovi uses medically proven TENS technology short for transcutaneous electrical nerve stimulation. Small pulses travel through the gel pad placed on the abdomen or lower back preventing the pain signals from travelling to the brain. The result? Instant pain relief.
As much as you'd like. Our bodies are all different so some of us may need to use it for longer periods of time and that is completely fine. If you do feel any discomfort then maybe take a little break or move your Myoovi to a different spot.
For sure. Myoovi is made for relief of primary menstrual pain (dysmenorrhoea). But it may also help to relieve the pain of secondary menstrual pain due to conditions such as endometriosis, fibroids, PCOS, adenomyosis or peliv inflammatory disease.
Painful bloating can really burst your bubble. Whether you're suffering from Endo Belly, get bloated around your period or simply suffer with a little trapped wind, MyDebloat can help ease your digestive system and reduce bloating.
Your gut is as unique as you are, so results can vary from person to person. Some people see a big difference in as early as a few days, but it can take a little longer for others. We recommend using MyDebloat for at least a month whilst tracking your progress, so you can see the full benefit.
MyDebloat can fit easily into your daily routine. Take 1 capsule a day, in the morning or evening, preferable after your heaviest meal of the day.
If you like your period healthcare plan-based - no worries. MyDebloat is suitable for vegans and vegetarians.
We know that for some people food intolerances can impact their menstrual health, which is why our entire supplement range is gluten-free.
Period & Bloat Relief Bundle
32% OFF
Regular price
$199.00
Sale price
$135.00
Unit price
per
Sale
Sold out